Hello dear fangpusun friends, Conny is back, because there are many customers ask a question about how to buy our products, and we have 2 ways to buy fangpusun products, first, you could leave message on our website, fangpusun Sale Team will send products information to you in time, and another way is buying fangpusun solar charge controller and inverter from our shops on Alibaba or Made in China, I am very lucky that I am in charge of a fangpusun's Alibaba shop, and we have finished hundreds of orders in 7 years. This article focal point doesn't tell you where could you buy fangpusun products.
Today we will talk about feedback, every company gets good feedbacks and bad feedbacks on orders, fangpusun running about 10 years, fangpusun main products are solar charge controller and pure sine wave inverter, we also have same situation with good feedbacks and bad feedbacks. Because we cannot see feedback from our website, I want to use Alibaba feedback record and let you know why so many people like fangpusun products. Frist we will talk about the good feedback, there are some pictures about buyers' feedbacks on Alibaba shop of fangpusun.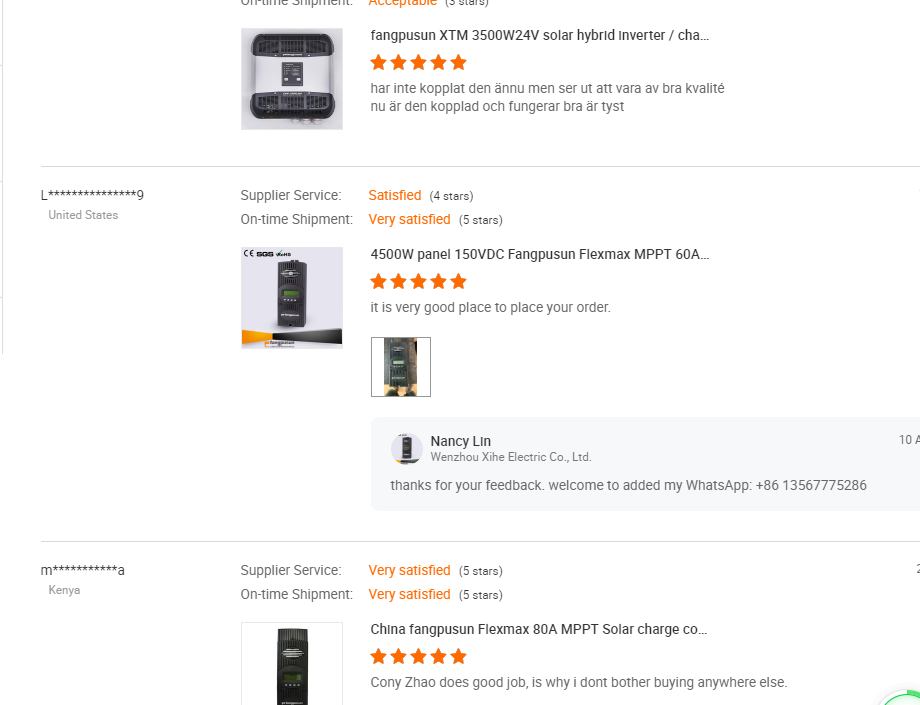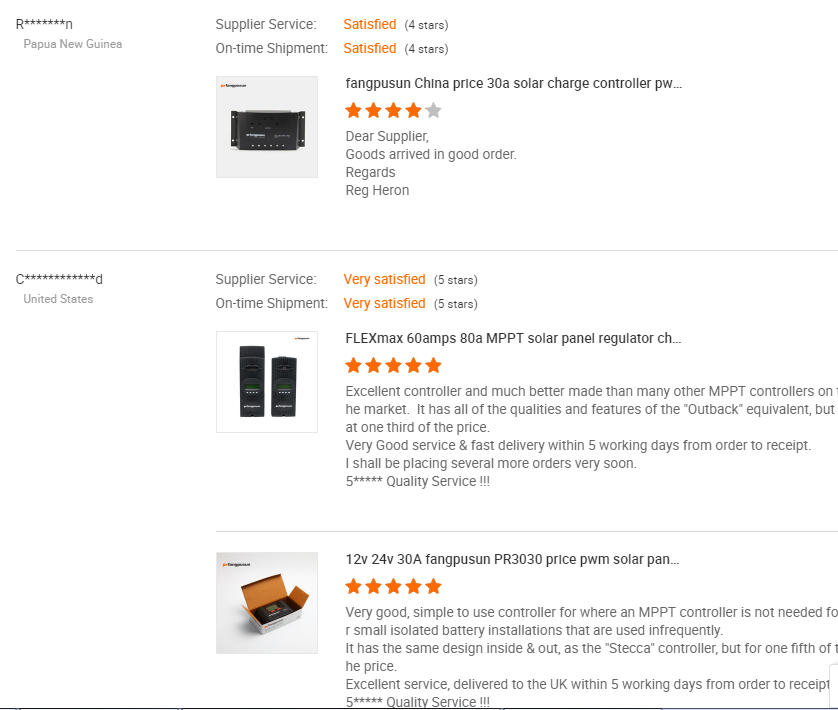 As you can see, the top sale-fangpusun Flexmax MPPT solar charge controller 60A /80A, it has many good feedbacks, customers like its good function and well packages, I think maybe you can find your feedback on picture if you have bought our MPPT solar charge controller on fangpusun shop. And the inverter's feedback king is XTM inverter , it is a new inverter series in fangpusun, XTM inverter has remarkable charge and transfer function, so it is with a bit high price in all fangpusun products, but after you use it, you will know why this inverter worth high price, maybe you will leave same feedback as the picture . XTM inverter has 1500W~ 4000W power selections, welcome request about fangpusun XTM inverter.

Let's back to feedback , the total feedbacks 92% is 5 stars, we are very appreciate who left those feedbacks, it is real words from fangpusun's customers. There are also 8% about 4 stars, 3 stars to 1 stars unavailable now , so I cannot show you bad feedback in this time , because we still keep no bad feedback record on Alibaba shop.
But we acknowledge that fangpusun also received bad feedback, because the bad feedback is few ,and we always solve it fast and perfect, that's why we have 4.9 scores in supplier service part, fangpusun Sale Team offer excellent and professional service to every customer all along.

If you want to know the story about bad feedback, welcome focus on our website, facebook and Youtube. fangpusun Sale Team will let you know the real fangpusun .Thank you for reading, and have a nice day ~