After the epidemic, you will find that some things have changed quietly. Of course, a good enterprise is constantly innovating and changing. A good service provider should adapt to the changes of the times. Fangpusun has made all-round preparations. We participated in the online Canton Fair and also made several live broadcasts on Facebook. The online live broadcast has changed from a little groping at the beginning to now leisurely Step by step, we live the steps of the army.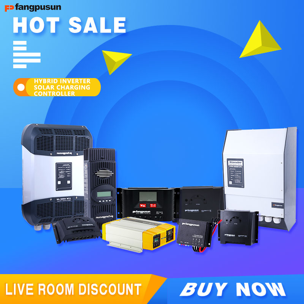 Fangpusun thinks that live broadcasting is not as simple as selling goods. In the future, we want to really open the closed-loop between online and offline. We should normalize the live broadcast, and further understand the demands of customers through live broadcasting. At the same time, we can share the development of fangpusun and made in China.
At 13:00-15:00 p.m. on September 31, 2020, and 01:00-03:00 a.m. on October 1, 2020, Fangpusun participated in two live broadcasts at Alibaba purchasing Festival. Of course, this was our first live show in Alibaba. Our first scene was to explore the factory, which intuitively showed the actual scenes of fangpusun company and workshop flow to wholesalers. The second live broadcast introduced a series of our company Products, we are the world's best-selling solar controller and charge inverter integrated machine, off grid inverter, hybrid inverter and so on.
Our inverter has 1000W-8000W, which really achieves high-power pure sine wave inverter, solar charge controller 3A-100A, there is always one of the best to meet your power supply needs. You can enjoy the super discount of our live broadcasting room, with lots of discount and exquisite gifts waiting for you. Fangpusun invites you to watch live on the cloud!