System components
3 x Fangpusun FLEXmaxMPPT60
1 x 8000W-48V Hybrid Inverter Charger
12 x 375 Ah Lead Battery
24 x PV
The Challenge
Through the use of renewable energy to improve the electricity supply conditions in the rural communities of Kwara Nigeria, to make up for the lack of power supply from the power grid, frequent power outages and voltage fluctuations in the area, and to establish an efficient and stable power supply system.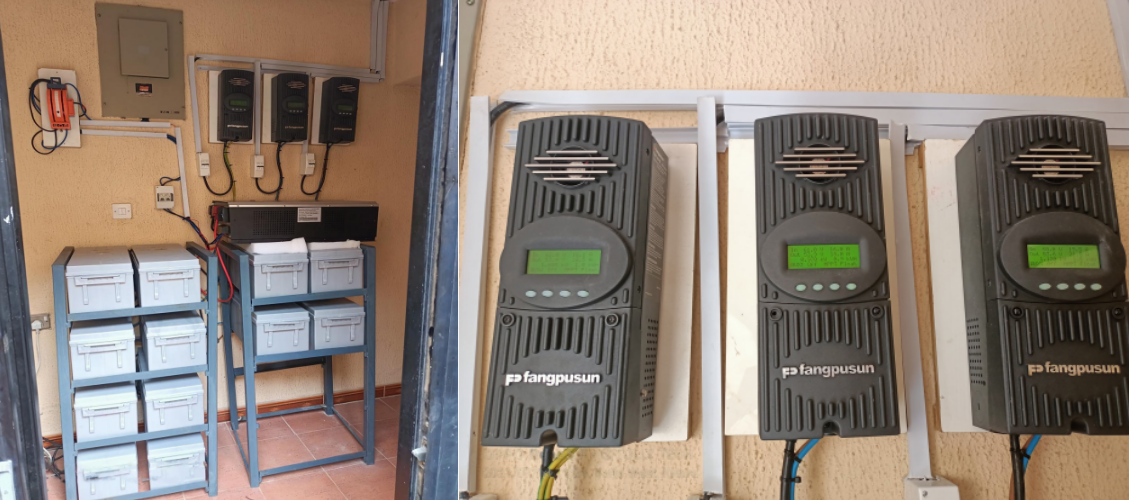 The Solution
Establish an off-grid solar power generation and power supply system. The roof is fitted with photovoltaic panels, as well as containing an inverter charger, MPPT solar charging controller and lead-acid batteries. Through a separate system, households can manage their own energy consumption. The three Fangpusun FLEXmax MPPT60 solar charging controllers can efficiently use power generation and charge batteries efficiently. Each unit has a maximum charging current of 60A. Its unique intelligent thermal management and air cooling system, so that it can be up to 40℃ in the ambient temperature with its maximum rated current long-term stable operation and up to 60℃ normal operation. 8000W inverter can also ensure the normal operation of a common electrical household.

Project outcome
The result is a home that is independent of the grid and self-sustaining, in which the initial investment is recouped, amortized over the years, and the payments to the power company are significantly reduced to keep the household's regular electricity running.
For Fangpusun FLEXmaxMPPT60, please click: https://www.pvsolartech.com/fangpusun-flexmax-mppt60-12v-24v-36v-48v-60v-solar-controller-60amp-3102.html .
For 8000w inverter, please click: https://www.pvsolartech.com/8000w-inverter-48v-dc-to-ac-2579.html .