9 x Fangpusun Xtender Inverter/Chargers : XTH 5000-24
1 x Fangpusun Xtender Remote Control : RCC-03
1 x Fangpusun Xcom-485
30 x 250Ah Battery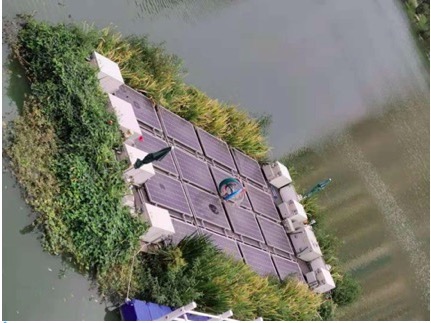 The Challenge
It's a Lake Ecosystem Location in WuHang City , China .
The System include 6 Kw Solar Panels , 4 units 4Kw Oxygenation Pumps . All install in a Boat , and Auto working on the lake . Normal the Power is from the Solar Panels connect with Solar Charge Controllers charging the Battery bank and provide the Power to the Oxygenation Pumps , and the Backup System is when the PV power are not enough or there haven't enough sunshine to provide the power to battery bank for Pumps use , it will be Auto Back to Lakeside Connect with Grid Power to Charging the Battery .
The Solution
To Improve Pumps work efficiency , Upgrade equipment 6 units Three Pahse Big Power Oxygenation Pumps , each with 4Kw Power , Total 24Kw Power .
And also add the Solar Power to 15 Kw Connect with 30 units 250Ah Battery in Parallel connection.
In the same time will be add the Pumps working time to 10 hours in one day , that's means will be need more reliable and more big power Inverter to support .
The equipment units Have Three pahse Request , and also need Charging Battery in Grid Power , so the Xtender Series Inverter will be best choose .
Final will be Use 9 unit XTH 5000-24 Xtender Inverters make up a Three Phase System , and 3 Units XTH 5000-24 connect with 2 units Pumps working .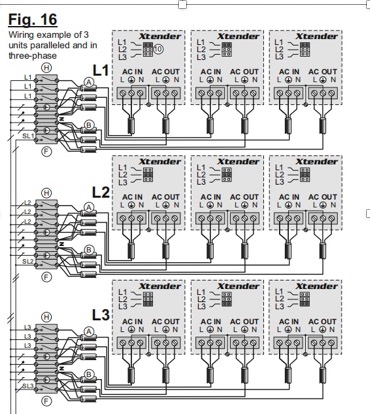 9 units XTH 5000-24 have a total 45Kw Continuous Power , and The Pumps working continuous power in one all day have 40.5Kw . Can be working well less 10 hours in day .
In this project , The XTH 5000-24 Inverter can be solved the Problems of Three phase and Grid Charging . and let the 2 problem all can be solved .
To be easy for Monitoring and programming , Fangpusun use a RCC-03 and Xcom-485 . RCC-03 it's a LCD screen for Normal check the working data and Programming . Xcom-485 can let us check the datasheet in the Mobile when the Moveing Boat are working on the lake .